Host a Travel Brochure Display
Seven reasons why visitors love brochures and maps (and will love you for providing them)
Brochure Displays highlight to visitors what is nearby, and the brochures they select guides them to their choice of experiences.
Brochure Displays are also great for guiding visitors to what they are NOT looking for – presenting them with options that will surprise. The best experiences are often unexpected.
Brochures and maps are easy to read at any time or anywhere and are not dependent on digital connections.
Reading brochures engages far more of the senses than reading online. Visitors can more easily absorb the information and act upon it.
Brochures are considered more personal and trustworthy.
Brochures and maps are easy to make notes on, and easy to share with friends and family.
Visitors love to receive offers, and brochures often include discounts, coupons and deals.
Host a Travel Brochure Display
Would You Like a 100% Free Service To Delight & Retain Your Guests?
We'll Provide You with a Free, Fully-Stocked Travel Brochure Display.
Getaways On Display would like to give you the opportunity to add extra fun, recreation, touring, shopping and dining to your guests' travel plans.
At no charge to you or your customers, we provide:
An attractive, new, display rack, available in a variety of styles and colors
Regularly scheduled re-stocking of brochures
An excellent mix of brochures, ranging from family fun to outdoor recreation, shopping, dining and regional visitor's guides
Our excellent reputation for professional customer service. We are members of the International Association of Professional Brochure Distributors, as well as numerous Convention & Visitors Bureaus and Travel Promotion Agencies.
A chance to enhance and extend your guests experience,

ABSOLUTELY FREE

.
Getaways On Display maintains ownership of the display rack and we require a signed agreement protecting us from the loss of the display.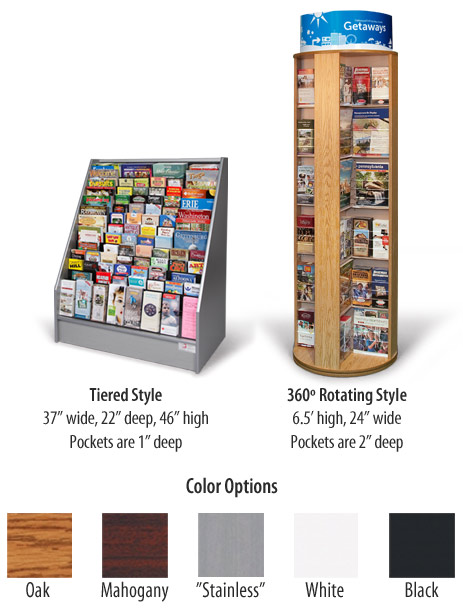 As a business owner you are always looking for the best way to spend your advertising dollars and sometimes questioning was it truly worth the investment. I can honestly say that Getaways On Display has brought a great deal of foot traffic into our stores. The staff is super helpful, very knowledgeable and very easy to work with. I highly recommend them, and we can see positive changes that it has made to our company.
Amy Scarnati
Dan Smith's Kitchen Fresh Candies