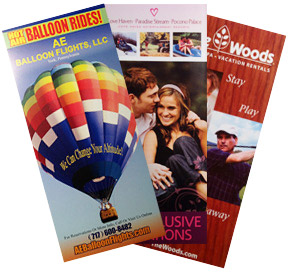 Why Print is an Effective Way to Inform & Influence Visitors
Our Experienced Network of Partners Benefits Your Brochure Program – and Your Bottom Line
Getaways On Display has a network of professional partners who can advise, design, create and print your brochures, flyers and rack cards for up to 25% less than standard rates.
Travel Brochure

Design
We have a network of design professionals ready to discuss, advise and create print materials and graphics that best meet your needs. We only work with professionals who understand the unique needs of the tourism industry.
Baffled by brochure folding options? See our handy Brochure Folding Guide to start envisioning your new brochure now.
Travel Brochure

Printing
Because we coordinate the printing of multiple travel brochures, we ensure that our clients qualify for large volume discounts– far below standard market pricing. We can work with you to achieve costs as low as 2.4 cents/piece for a four color, two panel brochure.
Our travel brochure printing partner is a premiere provider of direct marketing, promotional and printing services, including commercial, multi-color, and bound materials. And, they've been in the business for more than 50 years! Our representative comes directly from the tourism industry, so you'll be working with people who understand your needs every step of the way.
Travel Brochure

Shipping
Through our partnerships with freight companies, we get discounts on shipping, because we do a lot of shipping. We leverage those partnerships to benefit our customers. We'll even use our own trucks if that's what it takes!
Bottom line? The more you ask from us, the more you save. It just takes one call. Let us know what you need, and we'll make sure you have the best creative partners, printers and shippers, at the right price.
It has been a pleasure working with Getaways On Display over the past few years. It truly helps to use their distributing and tracking of brochures. If it is in your budget, I suggest to do it. The staff is very easy to work with and make the process quite simple.
Janet Falotico
Executive Director
Visit Lawrence County